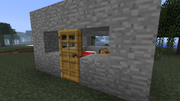 This is my design for a safe house that does not require as much resources as a usual, fully enclosed house, quite ideal for your first night. It will protect you from mobs at night so you can sleep uninterrupted aswell as through the day (except skeletons).
Materials
You will need:
At least 38 of any building block
A wooden door
You may also like to have:
A bed
A crafting table
A chest
A furnace
At least one torch.
Method
Building
Basically find a good space at least 5 x 5 blocks wide.
For the first layer, set out the blocks like so:
X = any building block
D = Door

XXDXX
X   X
X   X
X   X
XXXXX

This will be enough space to have a bed, furnace, crafting table and one or two small chests. Next place one block on each of the corners to make pillars.
X   X



X   X

For the roof it will be similar to the bottom layer, but with a row of blocks through the middle to prevent spiders entering.
XXXXX
X X X
X X X
X X X
XXXXX

or

XXXXX
X   X
XXXXX
X   X
XXXXX

Despite the large holes, this will protect you from creepers, zombies and spiders. Skeletons will be able to shoot through the holes, though whilst sleeping this will not be a problem. This also dows not require as much resources as regular houses, which makes a good emergency hut or first night house. The holes can later be filled to look neater and be protected from skeletons.
Furnishing
A reccomended way to set out furniture and torches is shown here:
X = wall, B = bed, F = furnace, C = crafting table,
H = chest, T = torch (on adjacent wall)

XX XX
XH  T
XC BX
TF BX
XXXXX

If the bed is placed in a corner, there will be enough room for the rest of the items aswell as for spawning. If it is placed in the middle there will not be enough room to spawn well. Because of the lack of complete walls, torches are best placed on the pillars, though they can be placed on the horizontal parts of the roof, the lower parts of the walls or just on the floor.
Community content is available under
CC-BY-SA
unless otherwise noted.