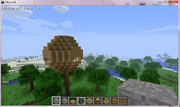 The Sphere House is designed to look fairly cool while still offering functionality. It can be built at any strata, whether perched on a post (see picture), sitting on the ground, or dug directly from raw rock. There are a few variations that I feel allow the Sphere House to be used in nearly any occasion.
(Note: Sorry, I didn't count out the materials blocks exactly, but I have a fairly accurate estimate)
First, you'll need to gather materials. Again, I didn't count exactly, but the shell requires ~250 blocks of your material. The innards include: 5 wooden slabs, ~150 generic building blocks. Furnature is your own choice, but I'll write what I used.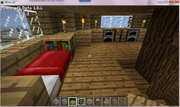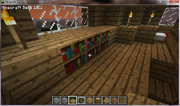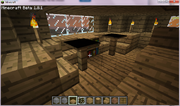 The Lower Level is made of four sections: the bedroom, the kitchen, the dining room, and the library, as shown in the three pictures at right. For this setup, you'll need a bed, four bookshelves, two ovens, a crafting table, two pressure pads, two fences, four wooden stairs, and a handful of torches.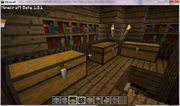 The Upper Level is the same all around--storage. With the design of the inside, I was able to fit 16 storage chests, with 12 bookshelves for aesthetics.
So, for a recap of building materials:
Needed Building Materials

| | |
| --- | --- |
| Name | Number |
| Generic Building Materials (wood, stone, or other) | ~400 |
| GBM slabs | 5 |
| Fences | 2 |
| Bed | 1 |
| GBM stairs | 4 |
| Glass (blocks or panes) | 12 |
| Bookshelves | 17 |
| Storage Chests | 16 |
| Torches | 20 |
CONSTRUCTION:
It's rather difficult to build a sphere out of squares, and I found the circle chart on this site a huge help. The widest parts are based on the 11-block-diameter section. I started with a single template, building the 11-block circle on a horizontal plane. Add in two vertical disks for the other two axis, and you have your frame. For fill, use the same circle chart and work in from the edges where the axis intersect.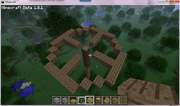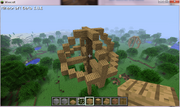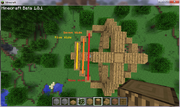 If you work through all four sides, you'll soon have a complete sphere. All you have to do then is add an entrance and fill 'er up. My perched sphere has a ladder going up the support that stops just inside, crawling up to the first level via a spiral staircase.
You could also put a door in the lower floor where I've put my library, or on the top floor anywhere you want.
So, yeah. That's it. Enjoy the house.
Community content is available under
CC-BY-SA
unless otherwise noted.